Jim Davis - God of Garfield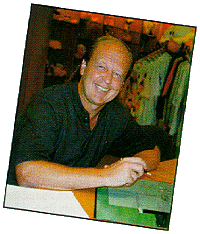 Jim Davis was born in Marion, Indiana on July 28, 1945. He was raised on a small Black Angus cow farm whih had its fair share of barnyard stray cats; about 25 at one time according to Jim. As a yound child Jim suffered from serious bouts of asthema and at these times, he whiled away the hours by drawing pictures.

After leaving college, Jim spent two years working as an assistant to Tom Ryan, the Tumbleweeds creator, where he learnt the skills and discipline necessary to become a syndicated cartoonist.

The Garfield comic strip was first launched in 1978, at which time Jim had one assistant and worked in the basement of his small home in Muncie, Indiana. In 1981 the company, PAWS Inc., was established, and by 1990 the staff had grown to 57 people and moved into its present 36,000 square foot headquarters.

Over 2,550 newpapers carry the comic strip, and Garfield has 220,000,000 readers daily!
Jim attributes Garfield's sucsess to a simple formula:
'Garfield must be entertaining. If he can make people smile or giggle, he's done his job.'

Now that Garfield has been in the newspapers for over 21 years, had his own website, official club, stores, themepark, and fans like everyone of us, We still can't stop lovin' him can we!
Thankyou Jim Davis for introducing the world to Garfield.