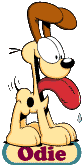 Odie first belonged to Jon's friend Lyman, but one day Lyman came over unexpectantly and uninvited, stayed for three weeks and then left, leaving Odie behind. His first appearance in a garfield comic was on the 8th of August 1978. Odie puts up with every kick and bruise that Garfield gives him, but he usually get him back.
He's Garfield's best friend and the two have heaps of fun together, whether it's making fun of Jon, going camping (Odie enjoys this more than Garfield) or reuniting the Amazing Juggling Garbanzo Brothers, they'll do it and work together all the way.
Generally, he's a salivating, extremely dense mutt, (Brain not included) but he has his moments.